Tags
Algee Smith, anthony mackie, Hannah Murrary, Jack Reynor, Jacob Latimore, John Boyega, Kaitlyn Dever, Kathryn Bigelow, Mark Boal, Tyler James Willaims, will poulter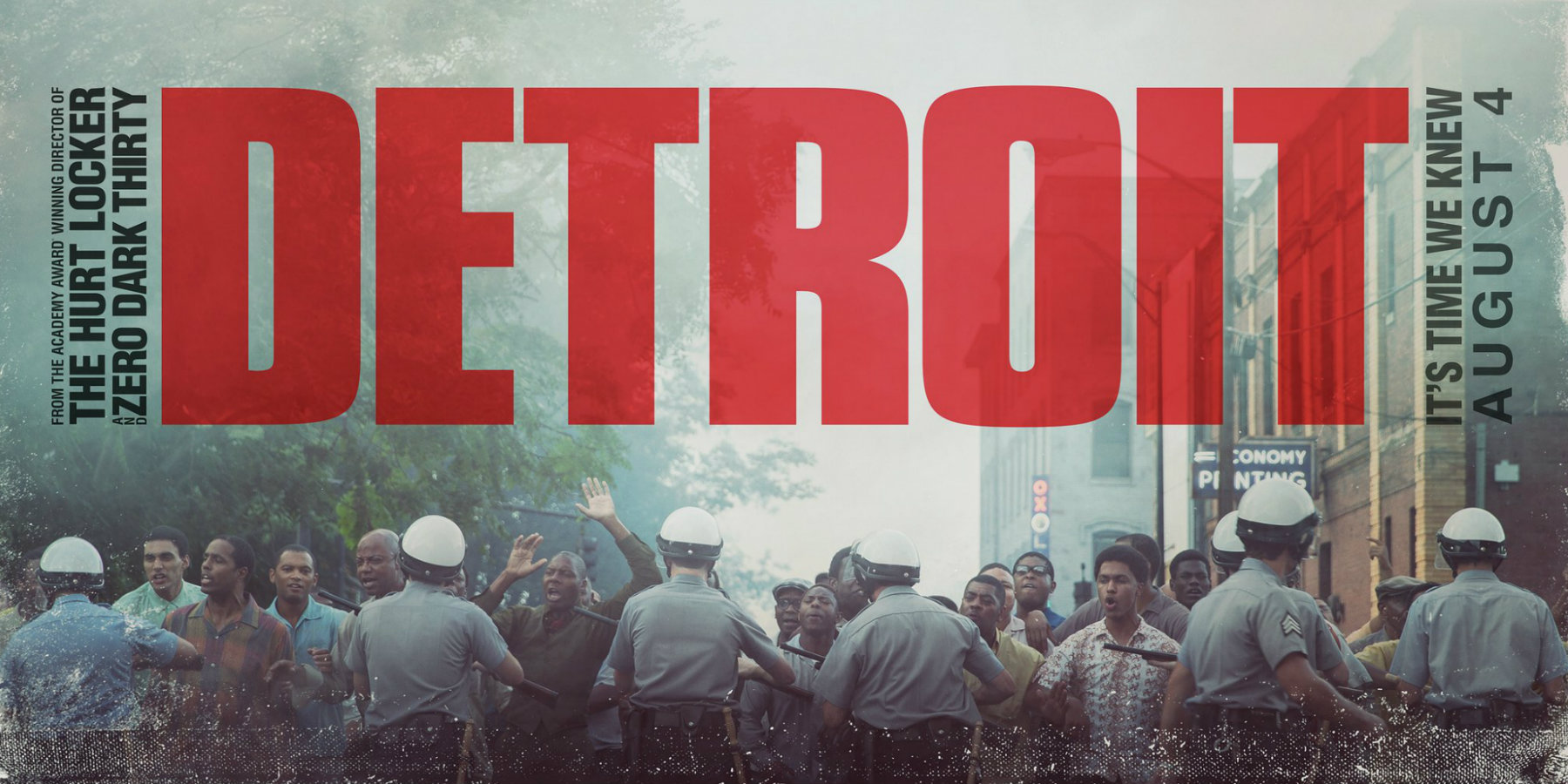 Director Kathryn Bigelow is certainly not shy of exploring darker subject matters, nor indeed darker moments in history. Rising to fame with the critically acclaimed 'Hurt Locker', a powerful war drama exploring a bomb squad during the Iraq War. The film won 6 Oscars and put both Bigelow and its star Jeremey Renner on the map. Bigelow followed this success with 'Zero Dark Thirty', a captivating and intense depiction of the decade long hunt for Osama Bin Laden, and although this film may not have won quite as many awards as its predecessor, with hindsight it certainly feels a more accurate representation of Bigelow's directorial style.

'Detroit' is the latest from Bigelow, exploring yet further her ability to present another painful moment in history, one that never forgets to the human core of the story. The tension in 'Detroit' is palpable, and it's a remarkably different type of tension to anything I have seen in some time, and not just from Bigelow, but from any director. It's the type of tension one can only feel whilst watching the abhorrent mistreatment of people based solely on the colour of their skin, race, or gender.
'Detroit' is an exploration of the riots in the summer of 1967, centred around one house, one real event, where the firing of a starting pistol escalates into an interrogation/execution by a group of racist police officers. I won't even try and sugar-coat it, for as outstanding as this film is, it's not a remotely easy film to watch, and nor should it be given the subject matter. For it's impossible to imagine anyone walking out of this film and not feel shaken to the core, particularly a film that so closely mirrors a modern-day America.
Bigelow places the scene in the house roughly in the centre of the film, providing us with the necessary time to both understand the context of this story, and for the aftermath to be equally important, developed and not rushed. The film's opening is a wonderful artwork style narration using work by Jacob Lawrence called 'Migration Series', providing the films historical context. Though the house is central to the story, what's more important to me are the characters. For if you choose to depict something so unjust, so utterly immoral, then it is essential that we feel a connection to the characters who are being treated so. Writer Mark Boal is responsible for curating each of the aforementioned projects Bigelow has directed. His ability to not only create empathy for each character, but to write them as a character in their own right, rather than a collective of forgettable faces is something I greatly admire. For this is a relatively large cast, with many intertwining narratives that speak to the vast array of difficulties the black community and women lived through and sadly continue to live in.
Jacob Latimore as Fred, the aspiring singer, embodying Detroit's vibrant music scene, is a man following his dream of singing on stage. Tyler James William's character Leon is both parts comedic, charming and witty all within the space of a minute, before he is hunted down by police. Symbolising the struggles of the everyday black man growing up in Detroit at this time. He may only have a short time on screen, but that time is profound. The same can be said for all the smaller characters, such as Anthony Mackie's Greene. Each character has their story, and each represents a different part of Detroit's culture, and it is a credit to both Bigelow and Boal that you never forget them. Aware as I am of the prior work of these actors, I think these are the best performance I have seen from each, for you feel empathy, you feel the tension, you feel the fear, you feel heartbreak, you feel pride, you categorically feel for them.
John Boyega of 'Star Wars' fame is probably the most recognisable face in this film, next to Will Poulter, and both of whom are superb. Boyega certainly explores something very new, something very different in this role and brings a performance reminiscent of a young Denzel Washington. His character is not at the forefront of the picture, but more an omniscient observer of events as his state-issued security uniform allows him to move freely into the house, and interact as he can. Boyega's presence in 'Detroit' makes it clear that he has he has a future beyond big blockbusters such as 'Star Wars'.
The film carefully explores themes of anger, confusion, sexism and racism. Yet balances it with respect to those who are simply trying to do their jobs such as the cities Fireman. I found this balance both interesting and important tonally, because for every corrupt racist Police Officer such as Krauss (Will Poulter), there are those who uphold the law and follow their training. This equilibrium that Bigelow so carefully explores really raises the quality of the film beyond a mere riot escalating to a hate crime turned injustice, and into something more real and human in such trying times.
OVERALL **** Undeniably tense, Bigelow has once again displayed her ability to tackle dark moments in history while never losing focus on the human core of her stories.
RECOMMENDATION – If you can handle it, then I would highly recommend seeing this film, just prepare yourself.