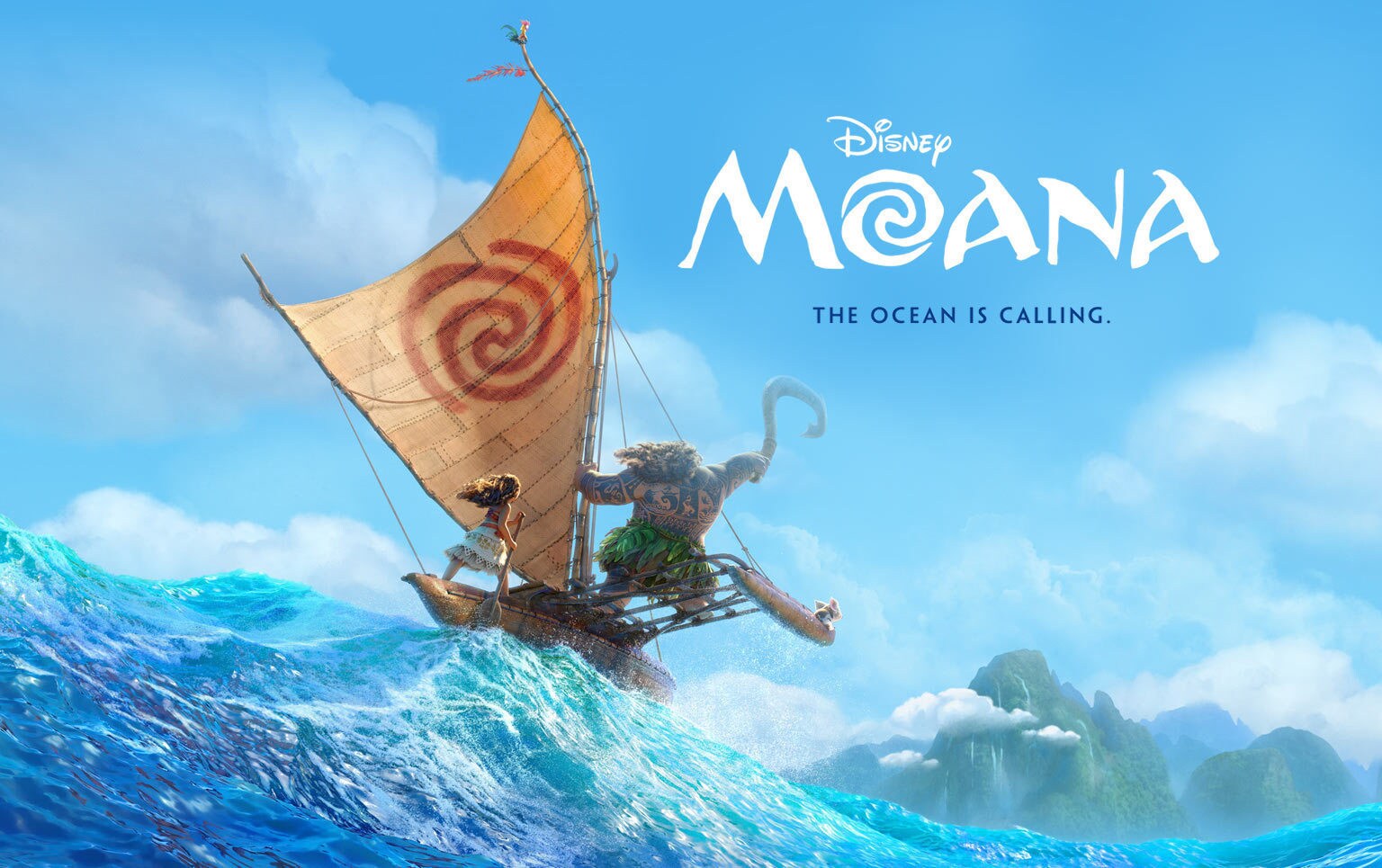 Ancient Polynesia, and a terrible curse has been placed upon the land by the Demigod Maui (Dwayne Johnson), causing famine to spread throughout the surrounding islands. The curse has now reached Chief Tui's island (Temuera Morrison) where fish are disappearing and newly harvested coconuts are rotten. Moana (Auli'I Cravalho), the daughter of Chief Tui, must venture forth beyond the high seas and find Maui in order to restore peace.
Disney continues their exploration of female protagonists with Moana, the daughter of the Chief, who desires to be out at sea exploring the world. Her father wishes her to stay at home and learn the ways of their people so that she can become a good leader once the mantle is handed down to her. This formulaic opening to a Disney is nothing new, and one can feel the influences of many prior Disney classics such as The Lion King, and Mulan. Owing to this somewhat frustrating opening I struggled initially to be enticed; however, once Gramma Tala (Rachel House) becomes a more pivotal character the film really becomes its own vessel, discovering its own personality and becoming one of the more interesting and certainly more entertaining Disney films of recent years.
The music is really moving, upbeat and engaging and I defy you not to fall in love with this soundtrack which features songs written by Lin-Manuel Miranda of Hamilton fame. Clear influences from films such as the Lion King really strengthen the film's music with one particular sequence showing Moana growing up in a style reminiscent of Simba's journey in The Lion King.
The characters are superb with Moana and Maui interacting with strong chemistry. Though Dwayne Johnson is a gigantic presence, both in stature and fame, he is placed in a supporting role, one which allows him to still flourish as a character but with the focus placed more importantly on Moana.
Moana is fierce, independent and charismatic with a heart of gold, and more importantly a fantastic role model for all genders and generations. This is Auli'i Cravalho's first major role in a film, she is clearly extremely talented and with a voice as powerful and beautiful has hers I hope to see a lot more of her in the future.
What really makes this film particularly special, besides the rich detail in the animation, is the characterisation of the non-speaking roles, something Disney long ago mastered in displaying the highest and purest forms of comedy. Moana has a pet Chicken and Pig, and when she goes out onto her voyage the Chicken becomes her companion which instils a comedic element at the perfect moments. I would like to have seen the Pig also accompany her on her voyage, but the moronic Chicken serves as a worthy comedic companion for both Maui and Moana. In particular, the character of the water, which is reminiscent of the carpet in Aladdin, is excellent fun and looks fabulous in regards to the animation.
Maui himself is a great character, with Johnson displaying an ability to successfully perform comedy on a smaller and more confined scale. Whose ever idea it was to transform his many tattoos into a character was a stroke of genius. Reminiscent of Hercules with a touch of Jeremy Cricket, it serves as a fantastic method of storytelling without needing to cut to a montage of his great achievements that other characters cannot see. Thus providing an inclusivity for both characters and the audience.
The film provides a rich history and authentic feel, demonstrating that you do not need to whitewash a cast in order for it to be successful.
OVERALL **** A set of fantastic characters, rich animation, and intelligent focus. The film has all the trademarks and influences of classic Disney with its ability to play with the environment, which is used to great effect. A feel-good Disney film with heart and personality which draws inspiration from the classics whilst find its own path.
RECOMMENDATION- Moana stands out to me as one of my favourites in recent years. Its warm, its loving, and its intelligent enough for parents whilst providing great entertainment for children. If you haven't experienced the joy of Moana then you are missing out on a fantastic experience.